Courses in higher education teaching and learning
AHU offers several electable courses on teaching and learning for all who teach at the university, for example senior lecturers, lecturers, professors, doctoral students, supervisors and librarians.
Courses on teaching and learning usually mandatory
For academic positions, Courses on teaching and learning are usually mandatory. At Lund university, at least five weeks of course work is required. All doctoral supervisors are required to have taken a course on doctoral supervision. If you are teaching as a doctoral student, you are required to do at least two weeks of course work.
Every course has to be completed in three years
In the event that a course participant does not complete a course within specified time limits, all course components must be submitted within three years of commencement in order for a course certificate to be issued.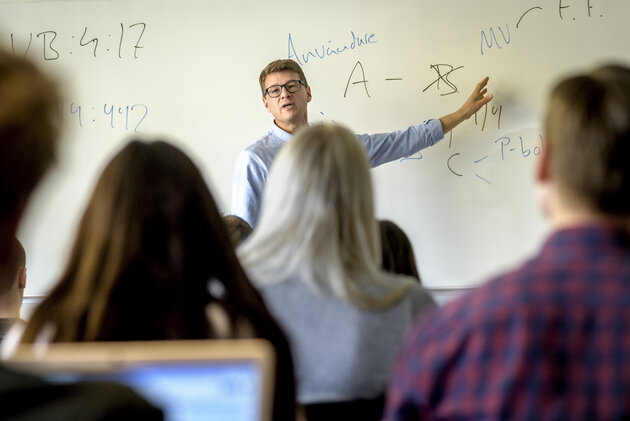 Högskolepedagogisk utbildning är till för dig som undervisar vid Lunds universitet, oavsett om du är erfaren eller oerfaren, är professor eller doktorand, eller har en läraranställning eller någon annan anställningsform.
Pedagogisk skicklighet ett krav
Pedagogisk skicklighet krävs för att du ska få tillsvidareanställning som lärare vid Lunds universitet. Utöver visade pedagogisk skicklighet krävs minst fem veckors högskolepedagogisk utbildning (eller motsvarande kunskaper).
Befordran kräver normalt att du utvecklat din pedagogiska skicklighet ytterligare, något du kan uppnå genom bland annat högskolepedagogiska kurser.
Utbildning för doktorander
Om du är undervisande doktorand förväntas du genomgå minst två veckors högskolepedagogisk utbildning. I de allmänna studieplanerna för många forskarutbildningsämnen anges också högskolepedagogik som en del i de obligatoriska poängen.
Handledning av doktorander
Forskarhandledarutbildning är öppen för de lärare som har, eller står inför, uppgiften att handleda doktorander. Forskarhandledarutbildning krävs om du vill handleda doktorander.
Kurserna måste slutföras inom tre år
För samtliga kurser gäller att i den händelse en kursdeltagare inte slutför kursen inom de givna tidsramarna måste samtliga moment slutföras inom tre år från det att kursen har påbörjats för att deltagaren ska kunna bli godkänd.